Huila is located in the Southwest of Colombia. It's a beautiful thriving landscape surrounded by the Andes mountains, a great number of coffee farms and glorious weather, but it can also be a very dangerous place to make a living. This is a fact that Elcira and Siria of Asomuprisma Women's Association consider to be one of the biggest challenges they face growing coffee in the region. Elcira, Siria and twenty other females are on a mission to change the future of coffee farming in Colombia. Out of 540 coffee growers in the region, Asomuprisma is the only group of its kind growing and selling coffee. We caught up with Elcia and Siria to find out what it's like to be making history in Huila.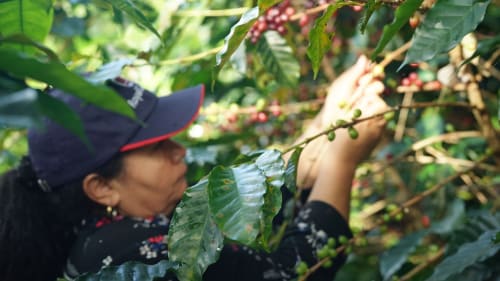 Can you tell us a little bit about who you are and what you do at Asomuprisma
Siria: My name is Siria and I run Villa Lucia Farm in Huila. Together with 21 other female producers in Huila, we form Asomuprisma Women's Association. From seedling to roasting, we cover every aspect of coffee farming and Asomuprisma coffee is grown on our collective lands. I'm the leader of the group. On a day off, you can find me nurturing my garden and salsa dancing.
Elcira: My name is Elcira, I run La Esperanza Farm in Huila and my responsibilities in the Asomuprisma Women's Association lie on the marketing and business side. Day to day this covers everything from sourcing the coffee to maintaining brilliant quality control. My other passions include travelling and simply being around new people and sharing experiences. 
What are the main challenges you face being the only female coffee growing group in Huila?
Siria: It's difficult to manage so many people in a group, particularly when part of your job is to challenge the traditional gender roles women have historically taken. Many group members are used to being key in their family, but not so much in the business of managing and processing coffee. Working with the Partnership for Gender Equity, we are slowly making progress by engaging with all members of the family including partners and children to communicate the value each person brings, regardless of gender.
Elcira: Huila is a really polemic area in terms of violence. We live close to Neiva (the capital of Huila) and it's extremely dangerous, difficult to get access to government resources and basic everyday tasks other people might take for granted, for example travelling to a meeting, you have to be so careful. There's no other women's association for coffee, it's just us. But we're working to change that.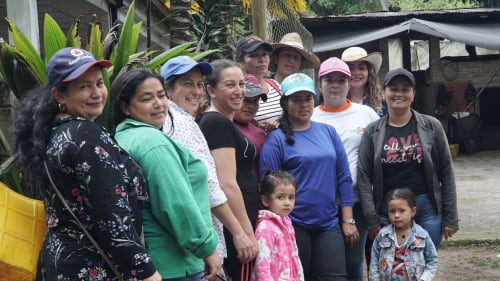 We are proud to sell your wonderful coffee here at Pact. How have you found the experience of growing speciality coffee?
Siria: We have been growing coffee for many years, but to sell speciality coffee is a different ball game. After all, speciality coffee is the highest grade of coffee in the world, so our production, our quality, our processes… They all needed to be perfect. The partnership with Pact has been extraordinary in terms of learnings and it's still going strong 4 years on so we must be doing something right. 
Elcira: The work and challenge involved in bringing our coffee up to speciality coffee level has been huge, but at the end of the day we can say that today our coffee is enjoyed by drinkers all over the UK now and it has our Asomuprisma label on the front. That's massive. We're also grateful that Pact understands the true value of speciality coffee and pays a price that reflects our local economy.
What are your hopes and dreams for the future?
Siria: There needs to be better infrastructure for the next generation or there will be a skills gap and nobody to grow coffee. I'd love to see better practices, better living facilities, better prospects in general. And more access to education. We are curious people and are always looking for more training opportunities. I am in the 9th semester of business school and hope to start my own business in coffee when I graduate next year.
Elcira: I'd like to have a more sustainable farm in terms of fertiliser and waste, so that's something I'm working towards. As a group, we'd love to be able to sell all our coffee at a higher price. When we sell to Pact, we are confident that our coffee is sold and exported as we produced it, and people know they are drinking Asomuprisma. That's a great feeling, it's very empowering. However, others pay low prices and blend our coffee so the quality is lost. We want all our coffee to be sold in a way that reflects the hard work that's gone into it. Watch this space.
Try Asomuprisma
Asomuprisma and Decaf Asomuprisma are both available to try on the current Pact Coffee menu.