It's Fairtrade Fortnight- the perfect time to talk about our commitment to a better quality of life for coffee farmers across the 9 origins we source from.
What is Fairtrade Coffee?
Fairtrade is a certification which has long been considered as the benchmark to look for when making ethical coffee purchases. The Fairtrade market base price is set at $1.40 per lb of coffee sold. However, because there are so many intermediaries in the coffee business – mill, shipping, import and export to name a few- coffee farmers often still lose out.
At Pact, we go straight to source and pay premium prices for coffee- 55% above the Fairtrade base price on average. By cutting out unnecessary steps in the supply chain, and building long-term sustainable relationships with coffee farmers, we can ensure that the people at the heart of the industry come first.
Pact Coffee's Sourcing Model
Our dream is to completely transform the coffee industry and create meaningful change through Direct Trade. 
Our approach to Direct Trade is multi-faceted. It's not a tick box exercise, it's our entire purpose.
Here are a few of the ways we're creating real change, right now.
Supporting farmers who need our help the most
One of the things we're super passionate about at Pact is making sure we're forming the right kind of partnerships in order to make the biggest impact possible. For instance, working with family-run farms, working with farms in rural / traditionally low-paid areas and working with local washing stations. 60% of the green coffee we purchased last year was sourced from family farms.
We are committed to supporting coffee farmers through our 3 Phase Programme. This involves identifying high potential growers, working with them on best practice growing techniques and helping them increase the quality of their coffee through investment and training before bringing that coffee to market and sharing it with the Pact community.
Great prices for great coffee - no poverty
We pay coffee farmers 55% above Fairtrade base prices, on average. We're buying the best coffee the world has to offer, and it takes around 3 years to produce speciality coffee. Farmers deserve to be compensated well for their skills and hard work.
Investment - the bigger picture
From purchasing 32 cows for farmers in Rwanda to essential coffee farming equipment, we listen to the needs of coffee farmers and invest in their future. Due to our direct trade relationships, we're able to work super closely with coffee farming communities and address the economic challenges in each origin. 
Education - a brighter future
We believe education is key in helping farmers to improve the quality of their coffee production, which is why we work with local agronomists, conduct coffee quality workshops and help farmers to finesse their processes. 
We're also committed to educating the next generation of coffee farmers and giving them the skills, opportunities and resources needed to keep coffee farming alive. 
Gender equality - changing the story
The coffee industry is predominantly a man's world. We're working to change the narrative by purchasing large volumes of female-produced coffee and promoting women as leaders through our work with Colombian group, Asomuprisma Women's Association. 35% of the green coffee we purchased in 2020 was from female-led farms.
Stability and support - long-term security
We forge long-lasting relationships with farmers and buy coffee in advance to provide financial security and support. We also encourage coffee production that is environmentally friendly and work with farmers on safe and sustainable farming practices that limit deforestation and ensure a long and successful future.
Why is Pact Coffee an ethical choice?
For all the reasons above! From nurturing the relationships we have with farmers, to our long-term investments, you can be assured that by choosing Pact Coffee you are making a sound ethical choice. We are fully committed to Direct Trade and we will never compromise on our values.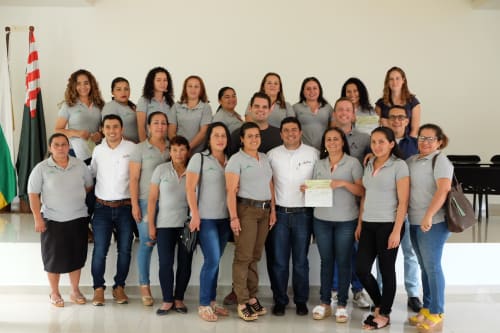 How Pact helps coffee farmers enjoy a better quality of life
The farmers we work with are our business partners and we treat them as such- it's a mutually beneficial relationship. We're proud to recognise their hard work and to be able help them in their success. 
Don George
Our Head of Coffee met Honduran coffee farmer, Walter Lopez, many years ago. Spotting that Walter had the potential to grow amazing coffee, we supplied him with essential specialist tools and resources (including a coffee depulper!) to help him master his craft. Today, we have a longstanding relationship with Walter and his coffees are so good they have been featured in our Advent Calendar and released as sell-out Limited Editions.
Bufcoffee 
Epiphanie Mukashyaka of Bufcoffee was made a widow by the Rwandan Civil war and genocide of 1994. She took on her late husband's farm with little experience and has built her company, Bufcoffee into something extraordinary. She was the first woman to own a washing station and her coffees have won several prestigious awards. Recently, er gifted 32 cows to the local farmers who sell to Bufcoffee, which will provide fertiliser for their farms, nutrition for their families and an additional income source through milk sales.
Asomuprisma Women's Association
We are proud to be working with this Colombian Women's Association to actively challenge gender inequity in the coffee industry. The group consists of 22 members and since we first bought and sold the first group lot of coffee from them, we have held training days and made small technical investments which have helped greatly to improve the quality of their coffee. The results have been so fantastic that Asomuprisma coffee is now a regular fixture on the Pact Menu, as well as regular Micro-Lot coffees. 
The future of Pact Coffee
In 2020, we helped over 150 coffee farmers in 9 origins to enjoy a better quality of life, but there are still thousands of coffee farmers out there who need our help.
With your incredible support we can continue to transform the coffee industry, positively impact coffee farmers and bring more amazing coffee to you.
Read more: